RVT Volunteer Opportunities
Volunteering with the OAVT
The OAVT is looking for volunteers to sit on our committees! Visit the list of Volunteer Opportunities below for more information on being a committee volunteer!
We are also slowly returning to a limited presence at public events in 2022-2023. If you have ideas for events that you would like to see YOUR association attend, or you are interested in volunteering, please contact us at events@oavt.org.
Volunteering can deliver a wealth of benefits including:
Building self-esteem and confidence
Learning and developing new skills and interests
Enhancing and expanding your work experience
Meeting and networking with other professionals in the industry and members of the public
Making a real difference in your community and profession!
CE Credits are available for volunteer work. Amounts are determined on an individual basis. Contact Laurie@oavt.org to determine how many credits you might be eligible for based on your volunteer efforts.
List of RVT Volunteer Opportunities
What better way to feel connected and engaged than to volunteer?
Registered Veterinary Technicians are a tremendous resource of skills, training, empathy, compassion and energy. If you are looking to share your talents with your community or your association, check out the list of opportunities below. Please note that the volunteer listings are updated as requests come in, with the most recent opportunities on top. Check back frequently for more opportunities. (The OAVT does not endorse any of these volunteer opportunities. We are simply making their availability known.)
Note:
If you or your organization would like to inquire about posting for volunteers on the OAVT website, please contact oavt@oavt.org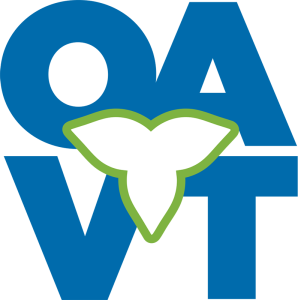 OAVT looking for committee member volunteers
Each March the Board of Directors reviews committee mandates, performance and composition. In anticipation of vacancies, the Board is looking for several volunteers. If you've ever been curious about how the regulatory work of the OAVT is accomplished, participating in a committee is a great introduction. Committees engage in such tasks as
debating the merit of a by-law change
researching best practices
drafting policy proposals
upholding the regulatory standards of the profession
ensuring democratic elections
reviewing college accreditation
This is a great opportunity for those who want to contribute to the OAVT and the profession through regulatory activities while developing a skill set and network that will benefit you throughout your career. Check out this video for additional information about committee volunteerism. Please send an expression of interest including a summary of any relevant experience to Elise@oavt.org
If you would like more information on this volunteer opportunity, please take a look below at the recording of our information session webinar we held in 2021 on becoming a volunteer.