Background
The Ontario Association of Veterinary Technicians (OAVT), the College of Veterinarians of Ontario (CVO) and the Ontario Veterinary Medical Association (OVMA) have been working collaboratively over many years towards a shared goal of modernizing the regulation of veterinary medicine in the province in order to strengthen public protection and more accurately reflect current practice.
This has included four years of policy research and consultations that culminated in the proposal Achieving a Modern Approach to the Regulation of Veterinary Medicine in Ontario, which was submitted to the Ontario Ministry of Agriculture, Food and Rural Affairs in 2018. 
CVO and OAVT, in conjunction with OVMA, established a Legislative Reform Implementation Advisory Group, to develop collaboratively the pieces of the reform. 
This has included proposed amendments to the legislation (Veterinarians Act) such as on council composition, where consultation has taken place, as well as early work to update regulations, including the registration regulation.
On November 21st, OMAFRA opened the Veterinarian's Act for public consultation, a process where the government actively seeks the opinions of interested and affected groups, like RVTs, before changes are made to the legislation. This feedback will inform a discussion paper. Details on the proposed changes to the Veterinarians Act are available at https://www.ontario.ca/page/consultation-veterinarians-act-ontario. RVTs can share their feedback by email at vetact.omafra@ontario.ca.
RVT voices will continue to be represented throughout the public consultation process, and the OAVT will continue to keep members updated on how they can be more involved in the next phase of this important work.
Milestones and timelines on the legislative reform process, including how RVTs can participate, will be added to this page as soon as they are available to the OAVT.
Advocacy is…
Acting or speaking in favour of a cause, idea, or policy
Attempting to influence outcomes such as public policy and resource allocation decisions.
 Telling your story to someone in government so that they are compelled to do (or not to do) something.
For an association like the OAVT, advocacy means building relationships with members of provincial Parliament (MPPs) and other government decision-makers and educating them about priorities for RVTs in Ontario.
Other resources
February 2018 OAVT/CVO joint letter to the Ministry of Agriculture, Food, and Rural Affairs- read here
April 2017 OAVT/CVO joint video discussing scope of practice consultations – watch here
May 2017 OAVT/CVO joint webinar (recorded): The Evolving Scope of Practice of Veterinary Medicine in Ontario – watch here
April 2017 OAVT/CVO joint podcast: The Evolving Scope of Practice of Veterinary Medicine in Ontario – listen here
Podcast
Listen to this January 4, 2022 episode of Oculus Insights' Hire the Smile Podcast, hosted by Dr. Mike Pownall, DVM. In this important episode, titled "HOW REGISTERED VETERINARY TECHNICIANS CAN HELP SAVE THE VETERINARY PROFESSION," Dr. Pownall speaks with OAVT President Kirsti Clarida, RVT about the roles, value and utilization of RVTs. They also touch on the topics of RVT burnout and setting boundaries.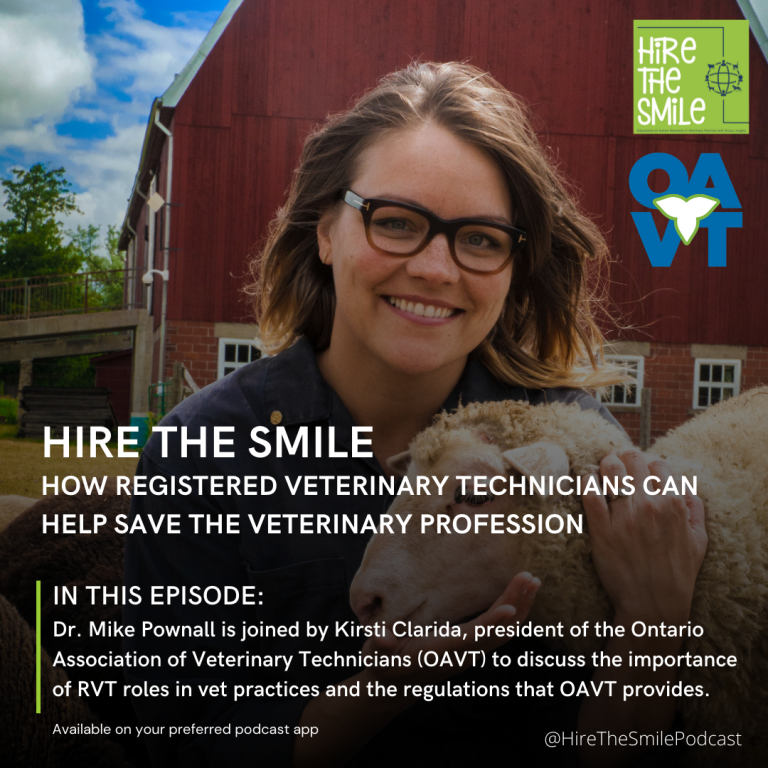 Podcast
Listen to this Spring 2021 episode of the CVO podcast. OAVT President Kirsti Clarida and OAVT Executive Director and Registrar Elise Wickett join the podcast to discuss advocacy efforts to modernize the veterinary profession with respect to RVTs' role in the animal health care team.
Video
Watch this video update on legislative reform from Fall 2019 with OAVT President Phil Nichols, RVT, and OAVT Vice President Kirsti Clarida, RVT.