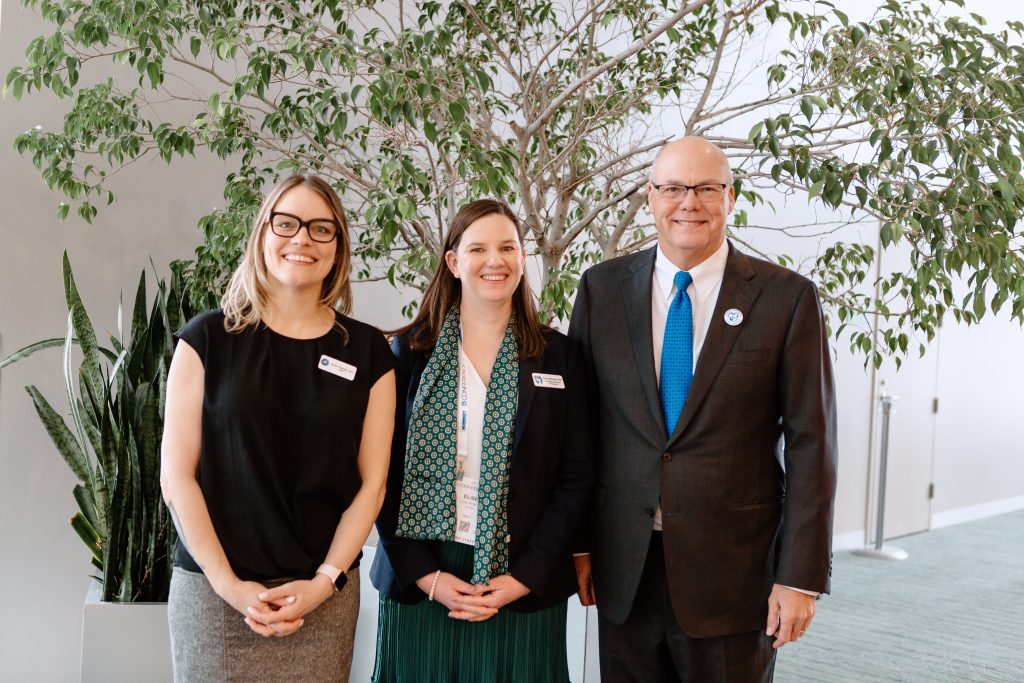 L to R: Kirsti Clarida, RVT, OAVT Board of Directors President; Elise Wickett, RVT, OAVT Executive Director, MPP Rob Flack at the 2023 OAVT Conference
Guelph, ONT— On Friday, March 3, 2023, MPP Rob Flack, Parliamentary Assistant to the Minister of Agriculture, Food and Rural Affairs, attended the 2023 OAVT Conference to bring greetings from OMAFRA and encourage submissions to the public consultation to modernize the Veterinarians Act from RVTs.
"You folks [RVTs], need to have a bigger role, not a better role because you have a great role now, a bigger role in terms of delivering animal care, animal health, and the various sectors you serve," said MPP Flack.
The next phase of the consultation process to modernize the regulation of the veterinary profession in Ontario is now open. OMAFRA has released a detailed discussion paper online for public consultation that is available here: https://www.ontariocanada.com/registry/view.do?postingId=43867&language=en
During the OAVT Conference, your OAVT Board of Directors met with members one on one to discuss what changing the Veterinarians Act means to RVTs. Whiteboards throughout the venue asked questions about updating the Act and gave members a chance to provide direct feedback.
The OAVT, along with our partners, the OVMA and the CVO, has worked to get meetings and share the data, testimonials, and information necessary to align the Government of Ontario with the need for changes to the Veterinarians Act. We need you to echo these messages, formally and informally:
The delivery of veterinary medicine contains two distinct professionals – veterinarians and Registered Veterinary Technicians (RVTs).
RVTs need amended legislation to create an expanded scope of practice that reflects their education and credentialed skillset.
RVTs cannot be lumped with auxiliary staff
The consultation period will be open until May 30, 2023. Comments can be provided by email to vetact.omafra@ontario.ca.
More information on changing the Veterinarians Act, including the process for legislative reform, can be found on the OAVT website at www.oavt.org/reform.
-30-