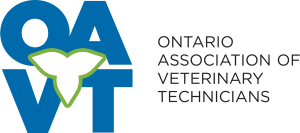 NEWS RELEASE
May 7, 2021
GUELPH – The Ontario Association of Veterinary Technicians (OAVT) strongly condemns the behaviour exhibited by the staff of an Ontario veterinary clinic in a recent viral video.
At this time, the identities of the veterinary staff members involved, and whether they are Registered Veterinary Technicians (RVTs), is not known; current legislation (The Veterinarians Act) does not require that individuals working in the role of veterinary technician be regulated professionals. The disappointing behaviour and lack of judgment shown in treating any animal in this undignified manner does not represent the veterinary medical field or the professionalism, empathy, and training of a Registered Veterinary Technician.
"It is vitally important that we continue the collaborative work with the College of Veterinarians of Ontario and our provincial government to modernize the Veterinarians Act to strengthen public protection and uphold the standards of the profession," said Elise Wickett, Executive Director & Registrar for the OAVT. "Conduct like this, whether caught on camera or not, is very concerning."
RVTs are highly trained and trusted professionals who dedicate their careers to providing excellent care to animals. To become an RVT in Ontario, a candidate must graduate from an accredited post-secondary Veterinary Technician program, pass the Veterinary Technician National Examination (VTNE), complete the OAVT's Professionalism and Ethics Workshop and provide proof of a clear criminal record.
These standards followed by ongoing and mandatory continuing education ensures that RVTs are committed to an unparalleled level of professionalism, providing the highest standard of care, and treating animals with the utmost dignity and respect. For these reasons, RVTs have earned an exceptional degree of responsibility and trust with pet owners.
RVT is a legal credential and persons holding this credential are subject to the OAVT By-Laws and Code of Ethics. The OAVT retains the responsibility to investigate complaints related to the professional conduct of an RVT practicing in the province of Ontario.
The Ontario Association of Veterinary Technicians (OAVT) is the regulatory body and member association for Registered Veterinary Technicians in Ontario with over 4,000 RVT members.
-###-
Media Enquiries: Jay Millington
Communications and Advocacy Manager
jay@oavt.org