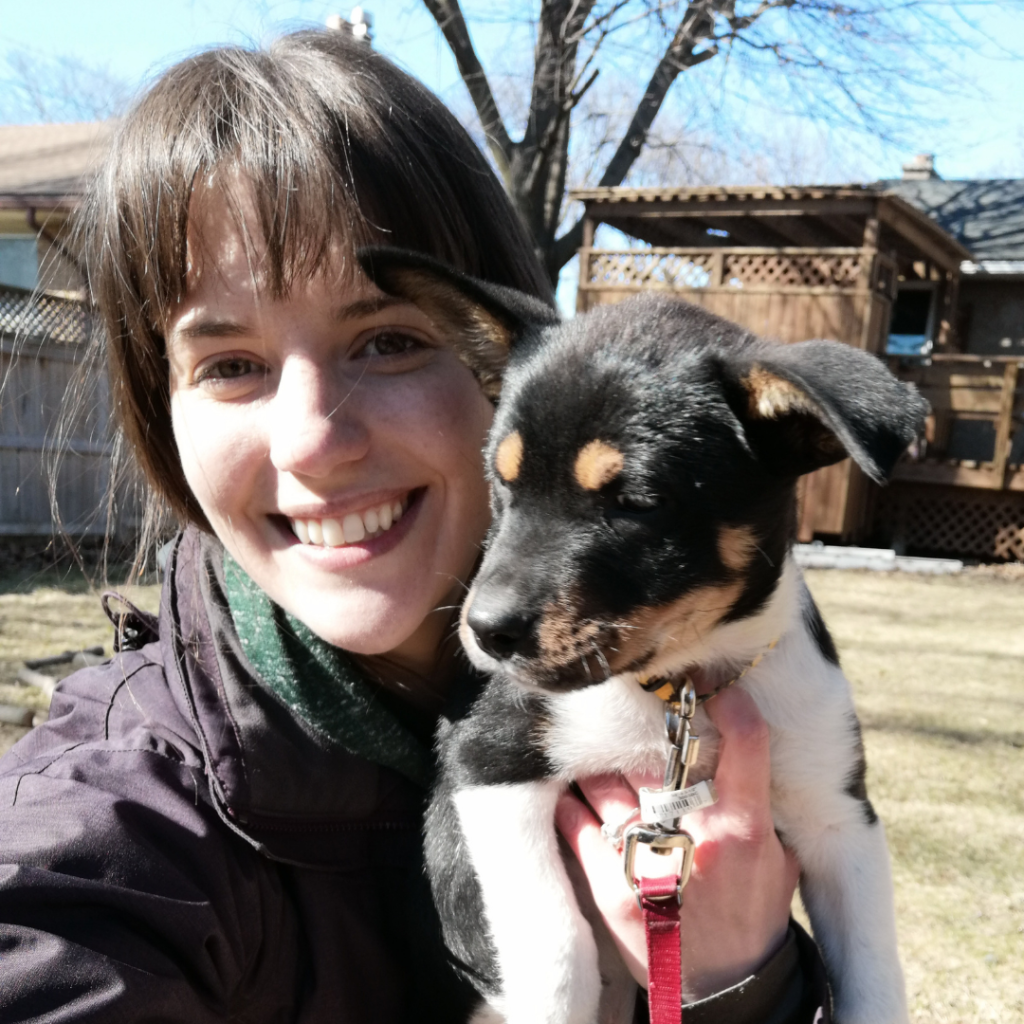 Bethany Muir, RVT
Where did you go to school and what made you decide to take a Veterinary Technology program?
In 2012 I completed the Veterinary Technician 2-year diploma program at the Northern College campus in Haileybury. Following high school, I took some time to save up for a fashion design program and had two cats adopted, in succession, then diagnosed with FIP and euthanized, within a matter of months. I volunteered at a cat hospital after this and realized how fulfilled I would be to work alongside companion animals.
 What is your current job(s)?
I am the founder of Pawdoption Guide which helps families locate, adopt and integrate the rescue dog of their dreams. I've recently pivoted to serving clients through an online membership program called the Pawdoption Guide Membership Experience.
 What led you to that role?
A lot of things really. Firstly, it was the adoption of my 2 rescue dogs. I learned a lot through this process, especially with my second dog who was a skittish, alert and destructive 8-month-old dalmatian.
Secondly, I found myself regularly advising clients on dog behaviour modification and dog training essentials, as an RVT.
Thirdly, it was obvious I was passionate about rescue pets as I often garnered conversations and relationships with clients who had them. Lastly, I helped friends and family by sharing adoption advice for cats and dogs and found it to be extremely rewarding. This led me to discover a gap that exists in dog adoption.
 What other jobs have you had in the RVT field? / What made you want to pursue this position?
I have been an RVT in a small animal vet clinic since I graduated. I spent 9 years there before choosing to make Pawdoption Guide my full-time gig this year. I was actually a client prior to working at this animal hospital. My family dog had had a COHAT performed there and their level of care, attention to detail and professionalism stood out. I then applied there for my co-op placement and was eventually hired on before I graduated my program.
 Tell us about your career path and how one role helped open doors for another role. Was it scary making a change? What advice can you give other RVTs who may "want a change" and they just don't know how to turn it into a reality? 
 Quite naturally, while working in the animal hospital I grew a passion for animal behaviour and animal rescue. These were the things that I enjoyed talking to clients about most. While off on maternity leave with my first child, I decided to launch my passion project to help families find their dream dog through adoption. It started slowly in 2019 and with my second maternity leave coming to an end I decided this was a crucial time to leave the vet clinic. It was all quite organic, it's been about 3 years from when I started out and I'm just now going all in. Start on a small scale when pursuing a new passion. Keep your side-hustle for as long as makes sense then, when you are more certain about your goals and interests, scale up! When you take steps like this it's not as scary because you have tested the waters. Also, we are lucky to be in a field of high demand. I am confident in my abilities both as an entrepreneur and RVT; I believe I can always return to the vet clinic if I choose to do so. Having a backup plan has helped me find security in taking a leap of faith.
Do you have any advice for RVTs who might want to pursue a similar role?
Entrepreneurship is not for the faint at heart. Think about whether you really want to turn this passion into a job; some passions fizzle out that way. Also, ensure your reasons for pursuing this role are good enough to motivate you to be consistent and focused. The lifestyle and flexibility I'm working towards is motivated by my young family and it keeps me going even when the work is hard.
What are your goals as an RVT? Not just your immediate goals, but long-term goals. 
 I want to continue to forge a path that's outside the RVT box. What I'm doing as Pawdoption Guide has not existed up until now. I am ready to see where it takes me and to allow myself to morph and grow as opportunities present themselves. My first long-term goal would be to have a full team of Pawdoption Guides; RVTs are some of the best people and I'd love to work alongside them while helping people find their dream rescue dog. The second is to continue to increase my dog behaviour knowledge through formal training and possibly certification if that serves me.
RVTs are passionate people, and every RVT has an area they are most passionate about (nutrition, research, spay/neuter, dog bite prevention, education, etc.). What is YOUR passion?
Animal rescue and dog behaviour is numero uno. Following that, I had a love of cytology and dentistry while working in the vet clinic.
Is there one thing you would like to see change in the RVT field in 2022?  
I hope that the RVT shortage brings about more recognition, investment in (mainly through CE) and compensation for RVTS. I also hope for an increase in work-life balance and healthy work environments. These are key to keeping RVTs in the field.
COVID-19 has amplified stress and uncertainty in everyone's lives. How do you incorporate that understanding in your role as an RVT?  
 I've seen the impact from COVID-19 in both the vet clinic and in dog adoption. In the vet clinic, there is a greater disconnect from our clients than ever before. The pandemic has made the day-to-day clinic duties more time-consuming and affected the genuine connection we can make with clients face to face.
There has always been distrust amongst the public when it comes to veterinary services and one of the best ways to combat that is by having clients see firsthand how we handle their pet with care and respect. I hope this opportunity does return.
 The mental stressors and reduced activity for people in the pandemic have certainly encouraged more dog adoptions. Although it's disappointing that the dog adoption process has become more difficult due to increased competition and requirements, I can appreciate that my services are needed now more than ever. In November I started the Pawdoption Guide Podcast to help adopters that are struggling by sharing weekly tips for succeeding in dog adoption.