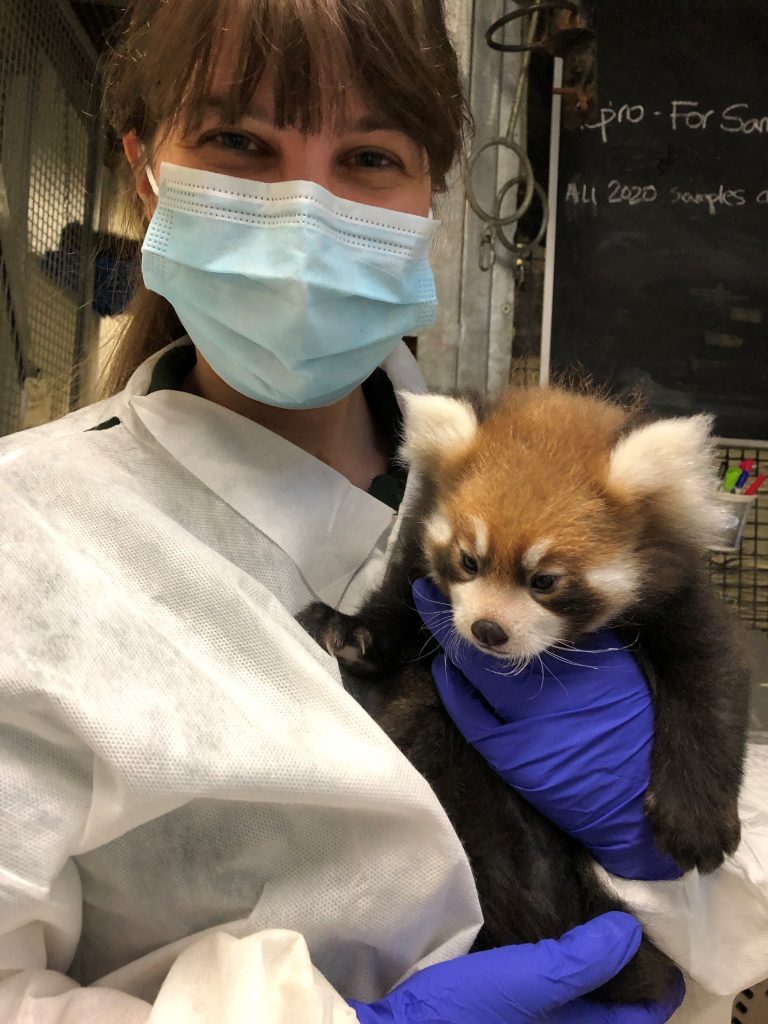 Hannah Schreutelkamp, RVT
Where did you go to school and what made you decide to take a Veterinary Technology program?
Before deciding to become a veterinary technician, I took an animal care program and fell in love with the field, I realized I wanted to do more and was crushed with news when I did not get into the program my first time applying. In the meantime, I received my diploma in business finance but realized that was not my passion so I did not give up applying and in 2018, I graduated from Sheridan College.
What is your current job(s)?
My current role is working as a Wildlife Health Technician at the Toronto Zoo.
What led you to that role?
While working as an ACA and in vet tech school doing placements, I learned I did not want to pursue working at a small animal practice, and started volunteering places to learn where I fit in, which led me to exotics and eventually realized I needed to be working at a zoo.
What other jobs have you had in the RVT field? / What made you want to pursue this position?
As an RVT, I have worked in a small and exotic animal practice before joining as a wildlife health technician at the zoo. Working as a zookeeper, I was able to connect with guests to talk about conservation and what our field is all about. It really got me interested, as technicians can really use a lot of their skills in this field and can contribute to providing better care for all sorts of species.
​Tell us about your career path and how one role helped open doors for another role. Was it scary making a change? What advice can you give other RVTs who may "want a change" and they just don't know how to turn it into a reality?​
Through school I was able to have my final placement at the Toronto Zoo which made me realize it was where I needed to be. I have tried many positions and worked in places I loved, whether it was volunteering or working but never found a position that I felt this is my long-term career position until coming to the Toronto Zoo.
However, this was a scary decision, as jobs come up scarcely, and they are very competitive. I was not able to stay on as a technician after finishing school, but I needed to stay so I worked as a zookeeper, a Zoomobile driver, IT technician for Lumina, a casual wildlife health technician while volunteering with other facilities, and working as an RVT in a small/exotic animal clinic until a position came up that I was eligible for to apply to be their full time.
It's hard to leave something comfortable but if you have a field that you're passionate about and can see yourself with your dream, then it makes the long days so much easier. For me, that dream was continuous learning, I needed to be in a field where school does not end, and with so many species it never stops. It's been a long journey since working as an animal care attendant to where I am now, and times were stressful but you find a way to make it work if you have the desire for where you need to be.
Do you have any advice for RVTs who might want to pursue a similar role?
Get experience as much as you can with as many species as you can and ideally work in a laboratory at some point as we do a lot of in-house diagnostics. It's hard when you have to volunteer to gain that experience but it's crucial when looking at potential candidates for jobs. If you feel that need to be in that certain job position that will make you love your job every single day, it's worth it, in the long run, to keep pursuing.
What are your goals as an RVT? Not just your immediate goals, but long-term goals.​
My goal currently that I am working on is to become specialized as an RVT in clinical pathology with is also a long-term goal as it will take a couple of years. I really hope to experience as much as I can. I am and hope to reach out to a few facilities to volunteer myself to build connections so we can learn from each other in times we don't have enough experience in a certain area or animal!
RVTs are passionate people, and every RVT has an area they are most passionate about (nutrition, research, spay/neuter, dog bite prevention, education, etc.). What is YOUR passion? ​
I love working at the zoo but within that field, I love clinical pathology and could spend hours at a microscope never bored!  
Is there one thing you would like to see change in the RVT field in 2022?​ 
Clients and guests do not often get to see all the behind-the-scenes work that goes into helping our patients as many of us know. Providing more job awareness to what RVTs can do, refine our responsibilities and duties to help encourage people to see what we can do. It would help give us more fulfillment and job satisfaction!
​COVID-19 has amplified stress and uncertainty in everyone's lives. How do you incorporate that understanding in your role as an RVT? ​
COVID-19 has definitely put a strain on everyone's life in one way or another, and for RVTs working in practices more than ever. We experience the strains at the zoo as well with being short-staffed sometimes or having more to balance in your day. We have to be extremely careful when working with staff and covid-sensitive species, while making sure we are wearing additional PPE and keeping up to date with new protocols. We always have to remember that most often people have more going on in their lives in addition to COVID-19 and have to be respectful of that, lean on each other and be kind, working together to strive to do the best possible job you can.