Career Spotlight of the Month (August 2020)
Name: Alyssa McKean, RVT
Current Job: Mixed practice RVT, and Program Coordinator – St John Ambulance Therapy Dog Program
Q & A with Alyssa
OAVT: Where did you go to school and what made you decide to take a Veterinary Technology program?
Alyssa: I graduated from Georgian College in the fall of 2011 and completed my RVT status in the spring of 2012. During college I completed my summer co-op placements with the Timmins Animal Hospital where I was subsequently hired on full time after graduation. I have continued to work for the Timmins Animal Hospital for the last nine years as an RVT.
Growing up I was always the animal kid. I loved all of them and spent as much time as I could learning about them and likely pretending to be one. We always had family dogs in the home as well as an assortment of small critters. In my early teens I had the opportunity to start working with horses and 17 years later have never looked back.
OAVT: Tell us a bit about your current jobs.
Alyssa: Currently I work in a mixed practice setting in Northeastern Ontario. I am also the volunteer coordinator for the St John Ambulance Therapy Dog Program outside of work hours.
I got involved with St John Ambulance in 2013 with my then 1-year-old Australian Shepherd, Kai. We became a visiting team in June 2013 and then a child tested team in 2014 as well as becoming a certified evaluator for new potential teams. In 2015 I was given the opportunity to become a volunteer coordinator for the Timmins unit.
I currently coordinate the program and have two dogs working as Therapy Dogs – Kai, and my Cattle dog mix, Chex. I have also become a board director for our local Fall Fair committee/agricultural society.
OAVT: You sound pretty busy! What is a typical day like for you?
Alyssa: Like any mixed practice setting my days are varied when in a clinic setting. Outside clinic work, within the SJA position, my days involve a lot of organizing and emails. As program coordinator my job is to control the chaos. In Timmins we have on average 35-40 active teams visiting 10+ locations every week. These locations range from seniors' home, assisted living facilities, mental health organizations, hospitals and treatment facilities. They also include many schools from elementary all the way to post secondary, library reading programs and youth outreach hubs.
Yearly my teams put in over 3500 hours of volunteer time visiting all of these places! As coordinator, I am the main contact for interested volunteers, new locations or special event outreach and community involvement. I also organize all new team orientations, evaluation days and submitting of paperwork. Being a volunteer program, we also do a lot of fundraising to provide all gear to our volunteers free of charge. I have been involved in all fundraising since becoming coordinator.
OAVT: What do you love most about your work with St John Ambulance?
Alyssa: My favourite part of my job is hearing how much of a positive impact my teams and my program are having in our community. Our dogs are so well known in the community and most locations know their teams by name! The incredible connections dogs can make with those around them never ceases to amaze me. Sometimes it is a story of a child who has a developmental delay, resulting in delayed reading skills who reads through an entire book with ease while reading to their favourite dog. Or the senior in a facility who does not receive many visitors suddenly opening up about their life, all while having the silent support of the dog with his head in their lap.
My favourite part is the heart of the program, we are there to care. Dogs are non-judgmental. They are undeterred by human frailties. The energy they bring to a room is amazing to be a part of.
With this position being a volunteer one I have the benefit of both worlds. While my fulltime job keeps me in the vet med world, this position within St John Ambulance allows me to truly appreciate the human-animal bond and how large of an impact our patients have in the world at large. While we all know working in clinic is fast paced and stressful, being able to volunteer outside the workplace, especially with animals, reminds me why we do what we do. Seeing a dog in their comfort zone doing what they love gives me the mental image for what our goal always is when treating a sick patient.
OAVT: So do you witness dogs in this kind of environment doing things that just amaze you?
Alyssa: Every single visit. Our dogs are absolutely incredible. They have a profound intuition that can never be trained and is amazing to watch. Many dogs will tailor their behaviour to those they are visiting and seem to know when someone just needs a quiet companion or some laughter.
There are many studies documenting the positive effect dogs can have on human's emotional wellbeing and how they can alleviate stress. While our program started in assisted living facilities it has branched out tremendously. We have dogs who visit elementary schools, after school reading programs, Colleges and Universities during exams, mental health and addiction facilities, office buildings, emergency service workers and have even begun to assist in courtrooms. We are also a great resource for those who are working in all locations and maybe are not the ones intended to be visited but benefit all the same.
The most amazing situation I have been in was early on in the program with my dog, Kai. We were at an extended care location and visiting an elderly woman who had just moved in the month before. The woman was very withdrawn and quiet, declining joining others for meals or activities. The moment she met my dog the floodgates opened, telling me about all her dogs growing up and the wonderful adventures they had. We walked up and down the halls for over half an hour with this lovely woman. What truly touched my heart was the staff reporting she joined them for supper that evening.
Though they cannot speak, dogs seem to connect with humans on a deeper level. The comfort they bring is not something anyone can replicate and is what keeps my dedication to the program alive
OAVT: Do you get to use your RVT skill set in your role with SJA?
Alyssa: Absolutely! Being able to maintain organization and time management skills has been key to managing the role of coordinator. As an RVT I do have a wider knowledge base about canine behaviour, health, wellness and zoonosis within hospital and assisted living facilities. I also get to meet many dogs every day and have recruited a fair number into our program from meeting them in clinic!
OAVT: Is your coordinator role within Ontario only? And did you have to take additional training for the position?
Alyssa: I am in a community coordination role. St John Ambulance is one of the oldest worldwide humanitarian organizations. The Therapy Dog program is relatively new, started in 1992 in southern Ontario. Though we are all based in our home communities we are all part of large regional groups working together to advance the program. Though separated, the SJA Therapy Dog program is like a large family and I often have contact with other coordinators in Ontario and even in Atlantic Canada. It allows us to exchange experiences and give feedback about how certain programs are running.
To become an evaluator within the St John Ambulance program we are required to attend weekend seminars and assist accredited evaluators in new team evaluations prior to becoming an evaluator. We then maintain that status by attending further seminars every two years. As a coordinator I did not have to attend any specific training but many other units within Ontario run weekend seminars we are all able to attend.
OAVT: How did you get this job with SJA? Was it something you were looking for, or did it fall on your lap?
Alyssa: This all started with an exceptional dog, as so many things do. My Australian Shepherd, Kai, is incredibly outgoing, friendly and loves having a job. With that in mind I wanted to find a way for her to fulfil those desires and found the Therapy Dog Program. My mother was already involved with her then 3-year-old dog so it came naturally. Becoming coordinator did kind of fall in my lap but has been something I have enjoyed 100%.
Volunteering has been a huge part of my life growing up. I have always found fulfillment in helping others, even if it is just the promise of my time. Volunteering in my community allows me to give back to the area in the best way I can.
For those who are thinking they want to change their RVT career path, my advice is to go for it! Even if you volunteer your time initially to see if this is where you want to be. We work in a very high stress field and burnout is real. Doing something that helps alleviate that stress is important for long term success. I believe it is important to love what you do, and in turn, that passion will open doors you never knew existed!
OAVT: Other RVTs may be wondering about Therapy Dogs. Are they considered Service Dogs? How does the program work?
Alyssa: With St John Ambulance all potential dogs are evaluated by an appointed evaluator within the program. They work through a series of ten exercises that mimic situations and people they may encounter while participating in the program. The key points we are looking for in a dog is a friendly, approachable personality, good leash and people manners (i.e. no jumping up or excessive excitement) and that they are enjoying the experience. Most dogs who go through the evaluation do go on to become qualified Therapy Dogs.
Once the dogs have passed the evaluation, we set them up with mentors and locations to visit. Most teams are assigned to single locations but many choose to visit multiple locations every month. Our program only requires a minimum of two visits (four hours) total per month, but most volunteers will complete 100+ hours each month!
Therapy Dogs are not considered Service Dogs, and in fact we discourage those who are working Service Animals from participation in the program. A Therapy Dog is shared by a group of people, providing love and affection through touch. Therapy Dogs do not have public access and are only permitted to visit locations where they have been invited by the facility administration. They are there to interact with people and seek attention from a large group of people.
On the other hand, Service Dogs are highly trained for their handler's specific needs. Service Dogs should ignore distractions and people while working and are not permitted to be pet. These dogs are there to help mitigate the handler's illness, visible or not, and are considered medical equipment. They are granted public access as such.
While a Service Dog would likely make an excellent Therapy Dog, having two very different types of "jobs" could create confusion for the dog, potentially causing a missed alert or reaction and creating a life-threatening situation for the handler. Service Dogs are often trained to alert to or stop some symptoms of the handler in ways that could be seen as pushy or stressful to our clients. This is always the graphic I use to help people differentiate between a Service Dog, Emotional Support Animal and a Therapy Dog: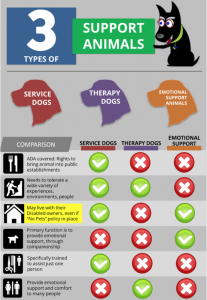 OAVT: RVTs are passionate people, and every RVT has an area they are most passionate about. What is YOUR passion?
Alyssa: I would have to say animal behaviour is what I am most passionate about, specifically canine and equine. I am fascinated by the human-animal bond and the incredible things it can do. I love learning how an animal thinks and interacts with their environment and the other animals and people in it. And how we can use this knowledge to improve their quality of life. How training certain behaviours can allow working relationships that are just not possible with modern machines.
Currently, when not working with the Therapy Dogs, I compete in CKC obedience and rally obedience trials with my Aussie. We are currently working on a Rally Master title. With a new puppy coming next month I plan to expand to even more CKC performance and conformation events. Seeing what my dog and I can accomplish is a daily endeavour!
My other passion is education. I love teaching people about animals and what they can do. Teaching dog obedience, teaching children how to approach and interact with dogs safely and calmly and educating clients on how to improve their pets' quality of life with training is part of my daily life. I also love bringing horses (and sometimes sheep) into the public eye again and reminding people about the amazing things they can do. Many people, especially children, never interact with large animals anymore and have forgotten about them as a whole. Working with my local agricultural committee in planning and running our annual fall fair has allowed me to help bring the farm to the city again.