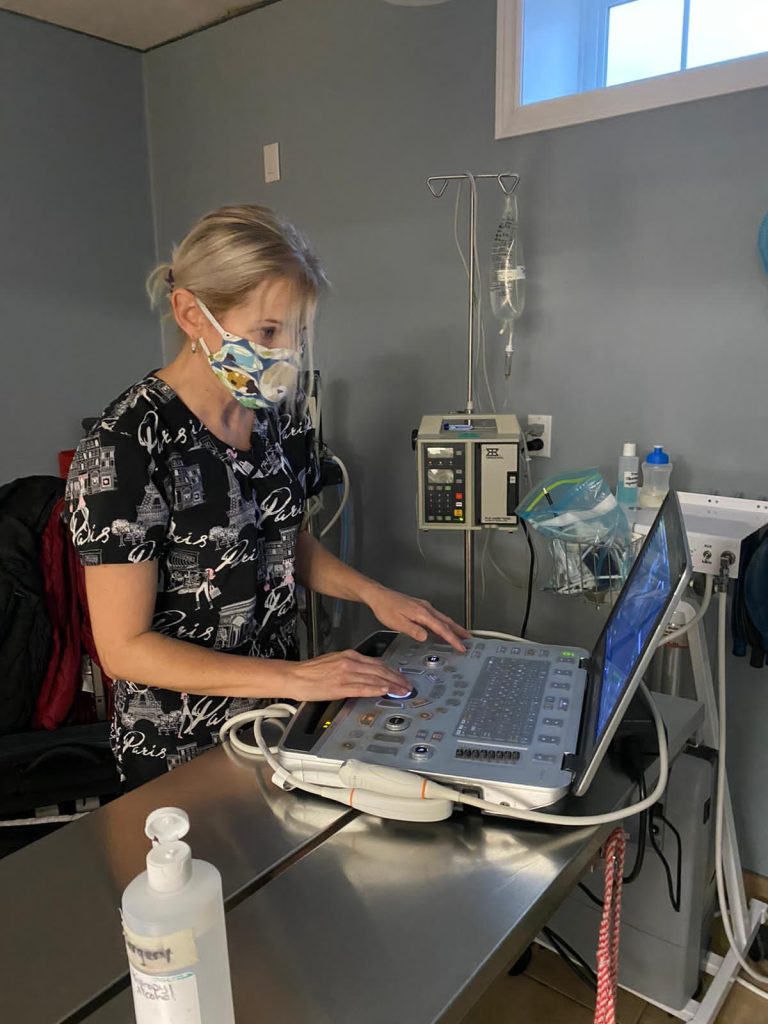 Crystal Hill, RVT
Where did you go to school and what made you decide to take a Veterinary Technology program?
I attended Seneca College from 1991 to 1993 and wrote my Registration exam immediately after graduation.  I always knew I wanted to work with animals so the program choice was easy for me.  The only thing I wasn't certain about was whether or not I wanted to be an RVT or a DVM.  Ultimately, I second-guessed myself and was pretty shy at the time, but often wished I had tried to pursue the DVM program before I was locked into a mortgage and raising a family etc.  I do still find that being an RVT is very rewarding and I love the up-close nursing portion of the job.
What is your current job(s)?
RVT/ Clinical Mobile Sonographer for The Focal Zone/Sonopath.  I travel in Ontario with mobile ultrasound equipment to perform ultrasound scans on small animals.  After obtaining the scan, we submit the images to Sonopath in New Jersey where multiple board certified cardiologists and internal medicine specialists read the ultrasound and provide a detailed report, including treatment options and introduction of medications. Sometimes they recommend returning for an ultrasound-guided FNA, which we also perform.
What led you to that role?
I have been an active RVT working in small animal clinic settings as well as SPCA spay/neuter clinics and Wellness/Surgery Outreach clinics for the last 30 years.  About 2 years ago my friend Kelly Reschny who is also an RVT approached me about the need for another mobile ultrasound sonographer in our area.  I applied and started training pretty much 1 month later.
 What other jobs have you had in the RVT field? / What made you want to pursue this position?
I worked in a small animal clinic in Burlington as an RVT for 18 years, then worked for years in two other small animal clinics in the area.  I did try Pet Insurance for about 6 months but found I wasn't really ready to give up the day to day excitement and reward of daily clinic life in a busy animal hospital so I returned to clinic life..  I have worked and volunteered at a few Outreach clinics in remote areas as well as at the SPCA.  I pursued this position because I was looking for a bit more of a steady schedule, less risk of injury as I age and better pay with options to expand my skills and learning.  
 Tell us about your career path and how one role helped open doors for another role. Was it scary making a change? What advice can you give other RVTs who may "want a change" and they just don't know how to turn it into a reality? 
I love being an RVT and have stayed long term in my jobs.  I did find it a bit scary to make the leap to this position, because you work alone and drive a lot and the skill set is totally different.  Once I made the decision to change my career path to Ultrasonography, there was a whole new learning curve and at times I was overwhelmed.  I would still advise anyone considering a change to go for it!! I am happy with my current role and my life balance has improved as well.
Do you have any advice for RVTs who might want to pursue a similar role?
I would recommend considering going on the road with a mobile scanner to see if the working alone and driving a lot appeal to you first, also consider a weekend ultrasound course to see if you feel like you would like and grasp ultrasonography.
When Kelly Reschny(RVT/Clinical Mobile Sonographer-The Focal Zone) were hired by Sonopath, the company provided a ton of training and support.  Our ultrasound scans are a bit different and very thorough in that we are taught a scanning protocol called SDEP and our scans include many 3 second video snippets of the organs. This allows specialists to see blood flow and to slow down images and see organs from multiple angles etc…  
I joined the team during COVID, so I received online training and certification as well as on the road/hands on training driving with an experienced partner who helped me to learn the ropes also.  As some COVID restrictions lifted a few times over the last two years, I also flew out to New Jersey to attend weekend lecture/wet labs for Ultrasound scanning and SDEP protocols with Sonopath.  
As a technician, if you have interest in ultrasound, I highly recommend these weekend courses to learn and develop your skills!!
What are your goals as an RVT? Not just your immediate goals, but long-term goals. 
My goals as an RVT are to continue giving back to the community and to never stop practicing Fear Free in Vet Medicine.  My daughter is finishing her third year of Vet School DVM at University of Guelph and we often like to work together, pick up an emergency clinic shift together etc.   I hope that I can always continue to have opportunities to work with her and share our love of the profession.
RVTs are passionate people, and every RVT has an area they are most passionate about (nutrition, research, spay/neuter, dog bite prevention, education, etc.). What is YOUR passion?
I would say that I am passionate about Ultrasonography and the amazing advancements that have come about because of this non-invasive form of diagnostics.  My other favourite part of RVT life is behaviour.  I love learning new training techniques and thoroughly loved becoming fear free certified.  I truly believe in the benefits of practicing in a fear-free environment and can think of countless times where I have seen it help make life at the vet clinic so much more pleasant for scared dogs and cats and horses.  I am interested in bite prevention and have also always had an interest in dermatology.  
Is there one thing you would like to see change in the RVT field in 2022?  
I would still love to see RVTs being more recognized in the field.  I would love for a time when all people working as RVTs within veterinary clinics, have to become registered.  Most of all I would love for people to truly understand what RVTs do on a daily basis and to see them paid accordingly.