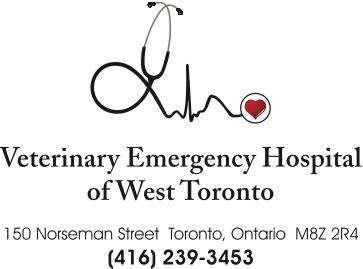 Website Veterinary Emergency Hospital of West Toronto
The Veterinary Emergency Hospital of West Toronto in Etobicoke, is an established after hours emergency clinic, offering urgent care to pets and their owners when their family veterinarian is closed. Privately owned and operated since 2011. We pride ourselves on providing compassionate urgent medical care to patients and clients after hours when their family veterinarian is closed. We are looking for RVTs to join our team as locums, part-time or  on a full time capacity. Every shift is different and offers an experience to learn and use your hands on skills.
Overview:
As an RVT with our organization, you are the backbone of our hospital, you have the know how to use your unique skill set, problem solve, prioritize and make a plan to ensure the hospital runs efficiently and smoothly to ensure that every patient is cared for and every client is satisfied. You will work side by side with the ER Veterinarian affording our clients the benefit of a personalized experience. Our patients are not just a number, your success will be connecting with our clients to help ease the stress and uncertainty of dealing with their sick pets.
What We Offer:
Work life balance is a priority when scheduling. We want you to be able to plan for "life", know your schedule months in advance!
Health and dental benefits
Arrive and leave from the comfort of free covered parking, and stay connected with wi-fi connectivity.
OAVT Dues paid and CE Opportunities.
Opportunities for career development for the motivated individual (technical, leadership, management)
Fully equipped hospital with digital x-ray, ultrasound, Idexx in house analyzers, I-Stat, Multiparameter monitoring equipment, DVMax, and more!
Kawarthas cottage use for staff.
Large discount on personal pet medical care and pet food and supplies.
Signing and retention bonus
Looking for something specific? We are open to discussing individual needs and helping to achieve your goals! Let us know what you're looking for in this position that we may be able to help you with.
Requirements:
RVT in good standing with the OAVT.
Looking for an experienced RVT (with or without ER experience).
Excellent nursing skills and critical thinking/problem solving skills.
Ability to work 8-12 hour shifts.
Availability during daytime, evening, some weekends and holiday hours.
Eagerness to learn and grow within the position and career minded.
A passion for helping pets and their owners.
Ability to work with a range of different people with different personalities.
Responsibilities:
As one of our full time RVTs, you'll strive to provide great patient care and client experience to meet our organizational goals, experimenting, learning and adjusting as you go.
Practicing compassionate nursing care to our patients in a fast paced environment
Assessing and triage incoming patients ranging from stable to critical condition
Administering emergency anesthesia and surgical procedure assistance
Expertly collecting and provide diagnostic data for our Veterinarians, for example digital radiography and in house laboratory sampling and analysis
Calculating drug dosages and administering CRI's
Catheter placement – peripheral, urinary, NG/NE, nasal
Extending compassionate client care, understanding the importance of good communication
Aptitude to work within a team and also independently/autonomously at times
A sense of humor
To be considered for this opportunity, please submit your resume to vehwt1@gmail.com.