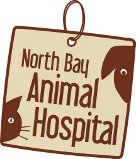 Website North Bay Animal Hospital
North Bay Animal Hospital - Where your pet is part of the family
North Bay Animal Hospital is looking for a Registered Veterinary Technician to join our team!
Why become a team member at North Bay Animal Hospital? We are serious about patient care as well as our client service and treat every animal as a part of our extended hospital family. Our dedication to the human animal bond is what motivated many of us to pursue careers in veterinary medicine.
Duties include:
– Perform basic lab work including urinalysis, fecals and blood tests
– Assist with procedures such as teeth cleaning
– perform blood draws and IV catheter placements
– cleaning and bandaging wounds, checking vital statistics, collecting samples and administering medication
– taking medical histories, carry out instructions, document patient statistics and update records
– prep and assist during examination and surgical procedures by restraining animals when necessary, sterilizing tools, stocking exam and surgery rooms with supplies
– other duties as assigned
Qualifications:
– graduate of an accredited college
– enjoy working with animals and have the ability to comfort, handle and restrain large and small pets
– focused and organized work habits
– be meticulous in charting, well-organized and detail oriented.
– The ability to educate clients about common veterinary problems, disease prevention and medication including flea and tick control is essential
– Able to work 8 – 9 hour shifts
We are excited about you if you have:
– Ability to learn quickly and perform with confidence
– Strong work ethic: self-started, punctual, neat appearance, enthusiastic and attentive to detail
– Be able to communicate warmly and assertively to manage multiple and competing priorities
– Have a continual desire to improve, to increase your knowledge, and to share information with the team
– Must be able to lift and carry 40lbs
– Must have a passion for animals and desire to help people
– Must have reliable transportation
Note: covid vaccination is mandatory for employment with us.