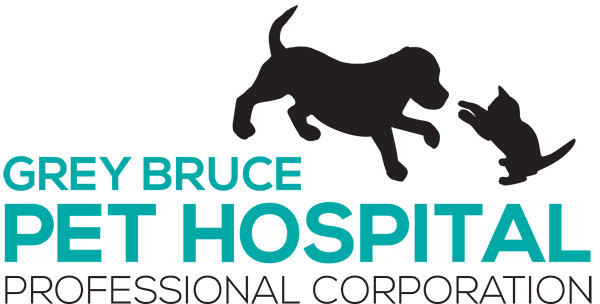 Website Grey Bruce Pet Hospital
Position: RVT
Hospital: Grey Bruce Pet Hospital
Location: Owen Sound, Ontario
Job Type: Part-time or Full-time
Description: Amazing RVT opportunity! Grey Bruce Pet Hospital, an AAHA-accredited practice in Owen Sound is seeking a full-time, energetic, and enthusiastic RVT to join 6 other awesome RVTs awaiting their next team member. If you're searching for a welcoming and collaborative environment that will utilize your RVT skills fully, search no further!
We celebrate best practices and are not shy to try new things, most recently introducing stem cell therapy and digital thermal imaging to our roster. Along with theriogenology, rehabilitation and chiropractic services in-house, our Western medicine is complimented by Traditional Chinese medicine and acupuncture for the times when clients wish to pursue these methodologies. Being an AAHA-accredited practice means we are constantly striving to be better, with clear protocols and progressive culture. With a fear-free mindset and emphasis on client relationships, we are lucky to have a compliant client base that benefits from our extensive scope of services.
Our ideal candidate takes pride in their compassionate client communication skills, and understands the importance of preventative medicine and client education. This role will focus primarily on anesthesia, lab work, surgery, nursing, and general patient care. However, candidates that possess experience or an interest in rehab exercises, regenerative therapies such as stem cell therapy and PRP therapy, laser therapy, acupuncture, and spinal manipulation therapy will be favored. Participation in the on call/weekend/evening rotation is required.
Owen Sound is a perfect mix of rural and urban. It is only a 2-hour (scenic) drive from the big city of Toronto and, is the largest urban community in its county. Owen Sound's tagline is literally "Where you want to live!" You only have to visit to understand why. It is a rapidly growing, family-oriented city located in the heart of beautiful Grey County.  This is a community with small town values and big city services!  Boasting a large retail sector, an Ontario Hockey League team, a regional hospital with specialty services, a brand-new YMCA facility, a vibrant arts community and other amenities.  What truly distinguishes Owen Sound is the expansive harbor on the southern shore of Georgian Bay, complete with stunning beaches, shipwreck scuba diving, and numerous waterfalls in the area. Enjoy a day kayaking in the summer, or escape to Blue Mountain for skiing in the winter. It's all possible in Owen Sound, and the region also boasts incredible value for money with property and housing being readily available and very affordable. It is the type of place that allows you to live on an acreage and still be at work in 10 minutes!
Key Duties & Responsibilities
Communicate in a compassionate and professional manner with clients and fellow veterinary care team members using efficient oral and written communication skills.
Administer and analyze diagnostic tests (hematology, clinical chemistry, cytology, urinalysis, etc.) utilizing appropriate equipment and techniques.
Assist Veterinarian with surgical and therapeutic procedures. Utilize gold-standard patient care techniques, ensuring operating room environment complies with all aseptic standards and protocols.
Administer and monitor anesthesia and analgesia in accordance with the veterinary scope of practice and provincial laws governing the RVT profession.
Provide excellent veterinary nursing care in a professional and ethical manner through the synthesis of veterinary theory, principles and concepts (including Fear Free techniques) within the scope of regulations dictated by the provincial governing laws of the profession.
Document and maintain accurate veterinary medical records, following regulated procedures and standards.
Operate and maintain state-of-the-art veterinary medical equipment, following health and safety regulations in accordance with veterinary profession standards.
Execute and evaluate quality diagnostic images utilizing knowledge of theory, principles and concepts.
Perform dental procedures in compliance with professional veterinary industry standards, employing an in-depth knowledge of dental structures, conditions and lesions, causes and stages of diseases.
Manage multiple priorities simultaneously in a fast-paced environment.
Maintain an appropriate inventory of all medical supplies as determined by veterinary office inventory control procedures.
Maintain and support a collaborative work environment and assist other staff members as required.
Total Compensation – We recognize how critical RVTs are to providing the best possible medical, surgical, and preventative medicine. We prove this by supporting your personal, financial, and professional growth through:
A Competitive Wage Rate
A Comprehensive Health Benefits Package (Medical, Dental, & Vision premiums paid by clinic)
Professional Services Coverage (chiropractor, massage therapist, physiotherapist, acupuncturist and more)
Enhanced Mental Health Practitioner Coverage
P3 Pawsitive Health & Lifestyle Spending Account
Unlimited Continuing Education (CE) funds for advanced professional development plus three days of paid leave to attend CE
Employee Assistance Program
Paid Licensing & Membership Dues
Paid Vacation Time
Paid Sick & Personal Emergency Days
Generous Veterinary Discounts (75% off services for your own pets, and an extended family and friends discount)
Clothing Allowance
Relocation Allowance to assist with moving expenses can be arranged for out-of-town candidates
If you are looking for a progressive environment where each individual is heard, and recognized for their unique contributions, we'd love to talk.
We are an equal opportunity employer and are committed to providing a respectful, inclusive, and diverse workplace.
Contact Information: Visit our website at https://greybrucepethospital.com/ to learn more; submit your CV to Dionne at jobs@p3vetpartners.ca