Contract
200$ / training day CAD / Year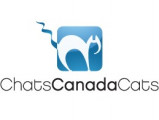 Website Chats Canada Cats
The purpose of the Continuing Education Committee is to promote the best practices of breeding to improve the ways and quality of cats in Canada.
We are currently looking for a Registered Veterinary Technician to teach cat's health course in various regions of Ontario (London, Sudbury, Mississauga, Hamilton…).
Responsibilities:
The RVT will have to:
 follow a mentorship program;
 give training workshops in his/her province;
 attend update meetings.
Qualities sought:
 Master the PowerPoint software;
 Master the Skype communication software;
 Master the management of a Facebook account.
Training required :
University or college education or equivalent in one of the following fields:
 Veterinary medicine
 Animal health
Requirements :
 Be a member of his or her professional board or professional association;
Assets :
 Be a cat breeder or work in an area where there is frequent contact with cats, for at least 2 years;
 have completed some Chats Canada Cats courses;
 Have flexibility in schedules;
 Bilingual
Compensation: $ 200 per training day.
For more information, please contact Ms. Audrey Lachance at : alachance@chatscanadacats.ca
Interested persons must send their resume accompanied by a motivation letter, by email to the Human Resources Committee to: hr@chatscanadacats.ca