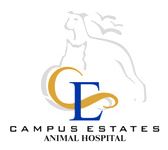 Website Campus Estates Animal Hospital
Do you have an interest in small animals, exotics and/or emergency medicine? Do you want to join a team where your skills are highly valued, encouraged, and utilized?
We are a well-established 24-hour blended general and emergency practice located in the beautiful south end of Guelph. We offer endoscopy, laparoscopic surgery, ultrasound, in-house laboratory services, digital X ray, therapeutic and surgical laser therapy and we are AAHA accredited.
What can we guarantee? That no day is the same! We see and treat a wide variety of species from dogs, cats, small pocket pets, avian and reptiles. There are endless opportunities for growth as you utilize your skills to their full potential both in general practice and emergency services.
We offer a four day work week to create a better work life balance as well as above average wages, benefits, CE allowance, complimentary virtual yoga classes, generous employee discounts, employee assistance program and mentorship opportunities.
Only those who have a current RVT status or who qualify to write the VTNE will be accepted.
If you would like to join our team, please send your application to management@petsandvets.ca