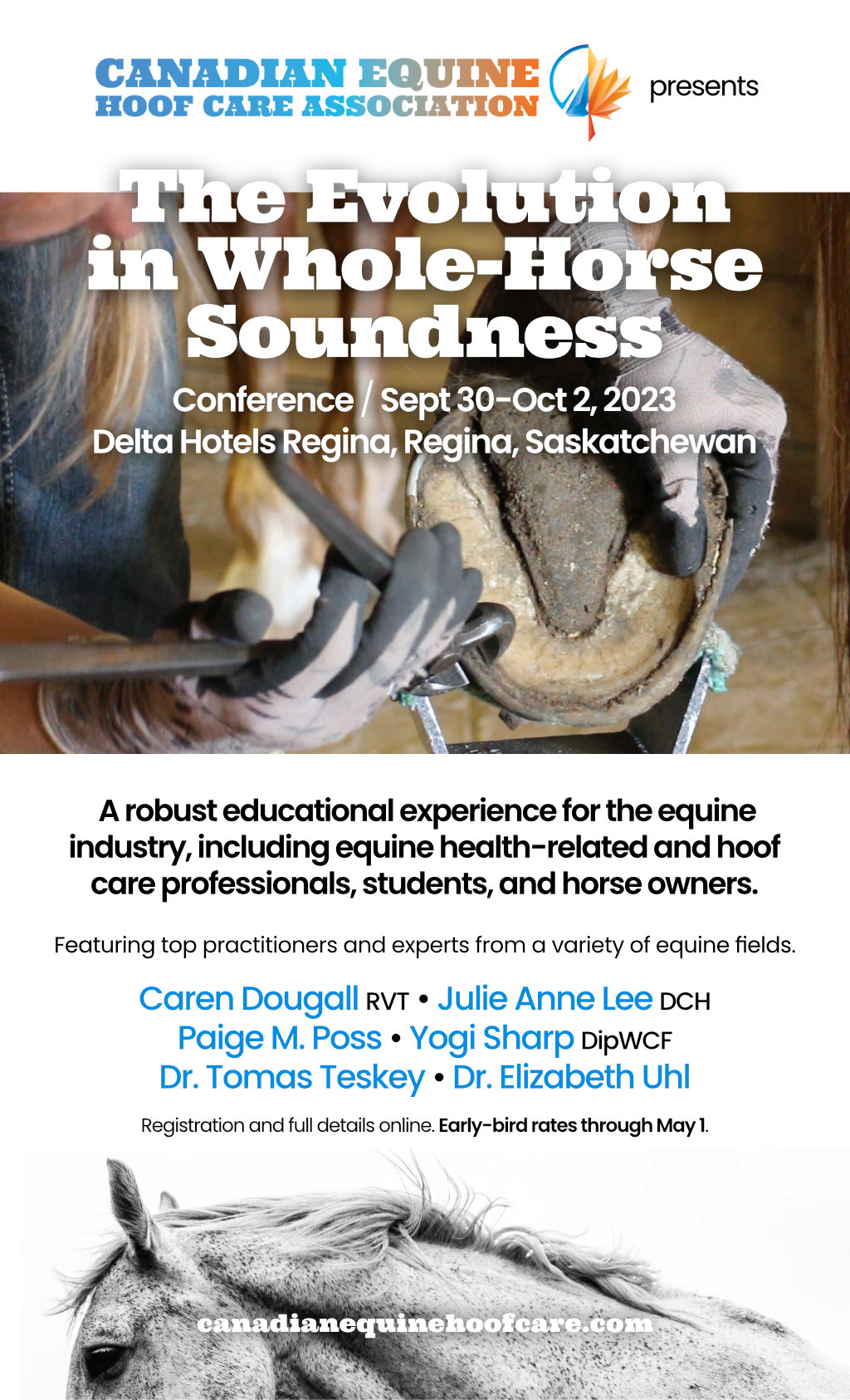 The evolution in whole horse soundness
155
155 people viewed this event.
The Canadian Equine Hoof Care Association is hosting THE conference of 2023 for all hoof care professionals, equine industry professionals, students, and owners.
Location: Delta Hotels, Regina, Saskatchewan
Date: September 30-October 1st 2023
BONUS: Wetlab for members Oct 2nd.
For those who aspire to grow their knowledge of the hoof and its relationship to the soundness of the whole body : this conference is for you!
The lineup of industry leaders who are presenting will spark conversation and a positive atmosphere of collaboration for farriers, bodyworkers, equine nutritionists, veterinaians, trainers, saddle fitters, and more.
Our speakers:
~ Paige Poss: Lower Limb Anatomy
~ Tomas Teskey DVM : The Teeth/Hoof Connection
~ Yogi Sharp DipWCF, BSc (Hons), PhD candidate : Presenting his newest research in the relationship of posture and hoof form/function
~ Caren Dougall:  EquiBow
~ Elizabeth Uhl DVM: Posture Relating to Molecular Pathology
~ Julie Ann Lee DCH RCSHom : Adored Beast Apothecary
Caren Dougall, RVT, CETP, CEBP, CEBI, WEBBP, WEBBCT has devoted her entire career to working with animals, and she is passionate about seeing them thrive – versus simply survive. For her equine clients, she utilizes kinesiology taping, whole energy body balancing techniques, and Equi-Bow. Providing patients with a multi-modal approach to provide comfort, confidence and capability. Caren's goal is to always empower owners to learn and be actively involved in the wellness plans for their animals. Her knowledge, skill set ,and dedication to health care team collaboration (vets, farriers, saddle fitters, dentists)  resolves both challenging rehabilitation cases, performance horses, and those in need of finding comfort & balance in their lives. Caren's Ontario farm is her home base for her bodywork practice team, North of 9 Equine & Canine Bodywork, offering a unique blend of holistic and scientifically backed bodywork modalities and nutritional support. In addition to her private practice, Caren is also an instructor and student education manager for Equi-Bow Canada, where the Equi-Bow bodywork technique was founded by Canadians Cheryl Gibson and Simone Usselman-Tod. Equi-Bow functions as a form of neuromuscular re-patterning, and works to facilitate healing of the whole body by addressing the nervous system, on both structural and energetic levels, to bring about change. Equi-Bow also encompasses other philosophies and methods such as craniosacral, Feldenkrais, acupuncture/acupressure, myofascial release, stress point and soft tissue release. This well-rounded approach to healing the body offers certified Equi-Bow practitioners,and Equi-Bow horse-owner students the ability to address even the most puzzling lameness cases, and offers hope for recovery.
Paige M. Poss
Paige Poss is currently self-employed at Anatomy of the Equine, LLC, and works with a business partner, Jenny Edwards. Paige and Jenny create educational material for the farrier and veterinary fields. Paige also is a hoof care provider, and lectures and teaches multiple clinics a year. Paige managed the University of Arizona, College of Veterinary Medicine Anatomy lab from July 2020 to July 2022. Her lifelong love of horses and extensive experience in the dog show world led her to earn a BS degree in Animal Science from North Carolina State University. During and after university, Paige worked as a research technician for highly regarded scientists at world-renowned facilities including NCSU, National Institute of Environmental Health Sciences, Environmental Protection Agency, and Bowman Gray School of Medicine. In 1999, a lame horse and a stay-at-home mom salary led Paige to experiment with trimming her own horse. Trimming hooves sparked her intellectual and scientific curiosity and evolved into a full-blown fascination with hoof and horse anatomy. Her desire to understand the mechanics of the hoof and her technical skills made dissections a natural choice for learning. Blending her love of photography, science and anatomy, Paige has dissected and photographically documented hundreds of lower legs. She has since expanded to whole-horse dissections. Her passion is to create images that teach. Paige's images and clinics give others the chance to explore hoof mechanics in a supportive, creative, and encouraging format. Paige recently moved to Tucson, AZ with her husband, horses and pets.
Yogi Sharp
Yogi Sharp DipWCF, BSc (Hons), PhD candidate, is a highly qualified farrier from the UK. His passion for evidence-based practice was the driving force behind his founding of The Equine Documentalist platform, an international educational platform for all things equine science. Since then, he has presented his studies around the world with a new brand of clinic based on the latest research. His personal research has involved the fluid relationship between hoof morphology and posture. Yogi has a passion for a holistic approach to hoof and limb soundness.
Sarah Smith
Sarah Smith is an equine and human bodyworker who has been practicing for over 28 years. Born and raised in Ridgeway, Ontario, Sarah has always had a passion for horses and a desire to help both horses and riders achieve their best. For the past three years, Sarah has been focusing her work on improving horse and rider balance and performance through gentle, non-invasive techniques. Sarah uses a variety of modalities to help her clients, including Equibow, Cranial Sacral Therapy, Kinesiology Taping, and Reiki. Her approach is based on the idea that the horse and rider are a team, and that any imbalance or discomfort in one will affect the other. By working with both horse and rider, Sarah helps to identify and address any areas of tension, stiffness, or pain, and create a more balanced, harmonious partnership. An experienced rider with a deep understanding of the biomechanics of horse and rider movement, she is dedicated to helping her clients achieve their goals, whether that means competing at a high level, improving their riding skills, or simply enjoying their time with their horse. Sarah is known for her compassionate, intuitive approach, and her ability to connect with both horses and humans on a deep level. She is committed to ongoing education and professional development, and regularly attends workshops and seminars to stay up-to-date with the latest techniques and best practices in her field.
Tomas G. Teskey, DVM
Dr. Tomas Teskey DVM is native to Arizona, from a six-generation ranching family. His focus is on equine lameness prevention and rehabilitation. He received a Bachelor's degree in botany from Northern Arizona University, and Doctor of Veterinary Medicine degree from Colorado State University. He has practiced large animal medicine and surgery in Arizona since, with the majority of his work focusing on horses. Taking a special interest in equine podiatry, he became a passionate supporter of the barefoot performance horse, and published The Unfettered Foot, A Paradigm Change for Equine Podiatry in the Journal of Equine Veterinary Science. A leading veterinary authority on the equine hoof and barefoot performance horse, superior health and soundness are his objectives. He is dedicated to continued research in hoof care, and happiest supporting horse owners in their efforts to achieve true soundness by holding lectures and workshops worldwide on horse and hoof care. Learn more at insighttoequus.com.
Elizabeth Uhl, DVM
Elizabeth Uhl, DVM, PhD, DACVP, is a professor in the Department of Pathology at the University of Georgia. Her research interests have developed from her passion for horses, pathology, history, and bones. Her studies include investigating the pathological postures and movements that cause tissue damage in degenerative joint disease. She also studies animal paleopathology, and how disease has impacted animals in the past.
Additional Details
Select one of the following: - Scheduled Event
What is the format of the online event? - Live (Interactive)
Supporting Documentation -