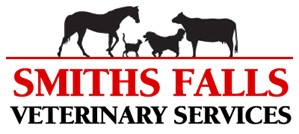 Smiths Falls, Merrickville & Athens Veterinary Services
Smiths Falls, Merrickville and Athens Veterinary Services
Here we grow again! We are looking for an enthusiastic RVT to join our friendly and energetic team. We take pride in providing a progressive, supportive environment to use your skills and grow within the profession. New grads welcome!
Our modern, privately owned, 8 doctor practice values the importance of work/life balance.  We offer competitive wages, generous employee discounts, no evening hours, paid CE & Membership dues, a comprehensive health/benefits package (medical, dental, & vision), professional services coverage (chiropractor, massage therapist, physiotherapist) and more!
The ideal candidate would enjoy working as part of a team. They should be confident, motivated and experienced in venipunctures, catheterizations, surgical/anesthetic monitoring and dental prophylaxis. Looking to advance your skills? Our clinic offers several advanced diagnostic tools, including ultrasonography, digital radiography, in house laboratory and advanced anesthetic monitoring.
If you're interested in knowing more about our team, we would love to hear from you! Full and Part time positions are available. Please send your resume to:
JC Redden, RVT
jredden@avet.ca