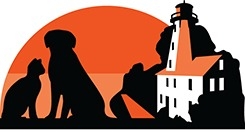 Website Queen Street Veterinary Services
FUNTASTIC small animal hospital in beautiful Bruce County
WE HAVE BEAUTIFUL BEACHES!
Now that we have your attention – Queen Street Veterinary Services is a wonderful hospital located in the heart of downtown Kincardine, just a few blocks away from the shores of Lake Huron. What does "wonderful" mean exactly? Well, to us it means having a large facility, pride in our community and a family-focused culture.
We care about our patients, our clients and most importantly – each other. If you want the proof, just ask! We are a close team who enjoy working together but setting each other up for success. If you want to work on a team where you will be valued and fully utilized, then you should apply. We enjoy laughing together (because sometimes things are funny, and other times all you can do is laugh – hey, it's vet med!) and are looking for a diligent, compassionate team player who will embrace our progressive medicine and strong values around customer service.
Life is a bit crazy these days, which is why we have stuck to our belief that work/life balance is fundamental to our success.
If this sounds like a good fit, then we want to hear from you! Of course, every RVT deserves a uniform allowance, paid CE, dues coverage, discounts for their pets and more – we value you and will show it every chance we get.